If you've experienced significant weight loss, you likely have loose skin and fat deposits that won't go away with diet and exercise.
Even if you've never been overweight, you may have frustrating areas of your body that keep you from having a trim, toned silhouette.
At Northwest EndoSurgical in Houston, TX, we offer high-tech, non-invasive contouring that can help you feel more confident in your skin...
Schedule a Consultation
Contact Northwest EndoSurgical Today
Are you curious about non-surgical body contouring? To learn more about this revolutionary solution, book a consultation at our Houston-area practice.
When you visit us for a consultation, we will take a look at your problem areas and ask about your health and cosmetic goals. Then, we will be able to recommend whether body contouring with InMode technology is right for you.
You can get in touch with our friendly team by messaging us online or by giving us a call. We look forward to helping you achieve a healthier and more confident life.
I have never met a staff more caring and friendly. The quality and time the staff spent with me to explain everything in great detail make this my go to place to start my journey.

View On Google
The most beautiful and professional people I have ever met. The team is courteous and organized. Your health concerns are thoroughly addressed, the needed procedure, to improve your health, is thoroughly explained, and they don't waste your time.

View On Google
The Effects
of InMode Body Contouring
Eliminate Fat
The InMode machines apply targeted RF energy to fat cells, which causes them to die.
Tighten Skin
The technology heats the skin and the tissue underneath the skin. This process encourages the development of collagen, which in turn causes the skin to tighten.
Tone Muscles
The machines use electrical muscle stimulation to force muscles to contract, increasing their strength and improving their appearance.
Refine Appearance
In addition to tightening skin, RF energy can also improve the appearance of wrinkles, scars, and blemishes. The InMode machines also have auxiliary tools we can use to improve the appearance of veins and perform laser hair removal.
Bariatric Patients
Benefit from Body Contouring
Northwest EndoSurgical is primarily focused on treating obesity through bariatric surgery. Our medical director, Dr. Matthew St. Laurent, is one of the most accomplished bariatric surgeons in greater Houston, TX. He has been in practice for more than 20 years and is board-certified in general surgery.
Dr. St. Laurent introduced aesthetic body contouring to his practice because he wanted to help his bariatric patients fully achieve their weight loss goals. No matter how successful a gastric bypass or gastric sleeve surgery can be, there is always a chance that stubborn fat deposits will remain in the buttocks, thighs, arms, or abdomen. Plus, patients who rapidly lose a massive amount of weight are likely to have some amount of excess skin. Our non-invasive body contouring procedures can refine the results of bariatric surgery and give our patients the bodies they've always wanted.
Now, we are happy to make our body contouring procedures available to individuals who haven't undergone bariatric surgery. If you have a few problem areas that you wish were a little tighter, you don't have to call a plastic surgeon. Contact our Houston-area practice today and experience the benefits of body contouring without the downtime and potential complications of surgery.
More 5-Star Reviews
"Dr. St. Laurent is AWESOME!"
It has always been a good experience when I go to my appointment. Dr St Laurent and his staff are very caring and I never feel rushed to get in and out. He has always spent the time to answer all your questions and make sure you feel good about your visit. He has certainly made a great difference in my life and I am so glad I made the choice to schedule that first consult.

View On Google
Dr. St. Laurent is AWESOME! The consultation was very good. He was thorough and very informative. He made me feel very comfortable.

View On Google
Simple & Comfortable ​Treatment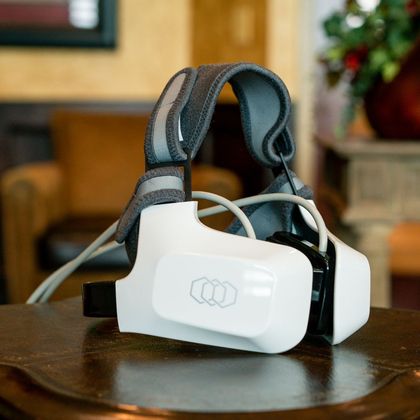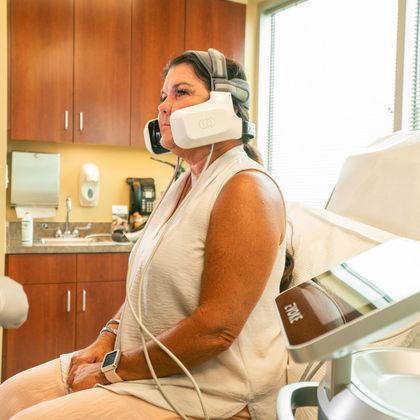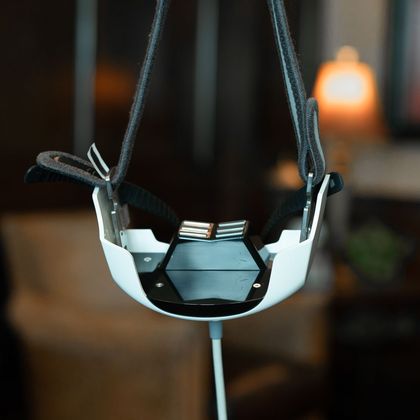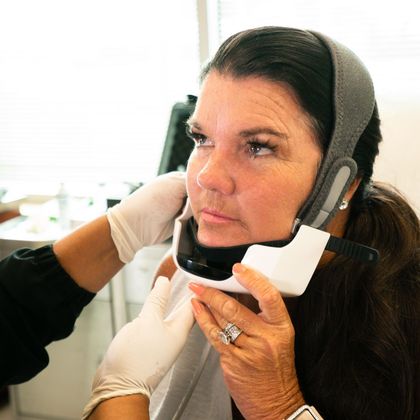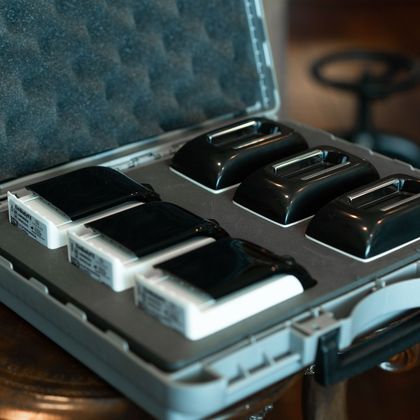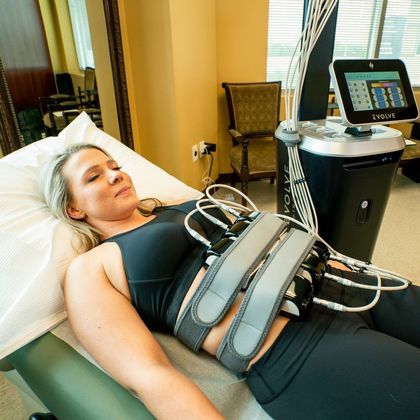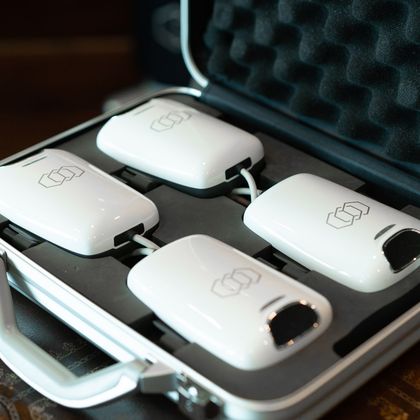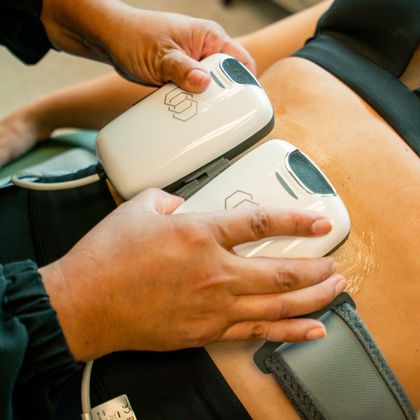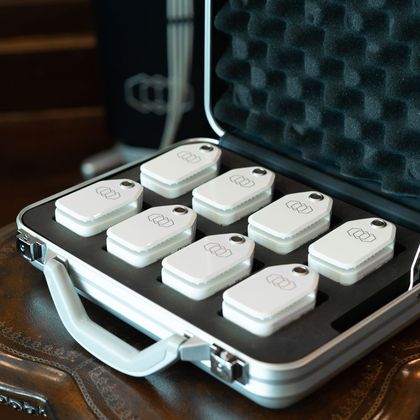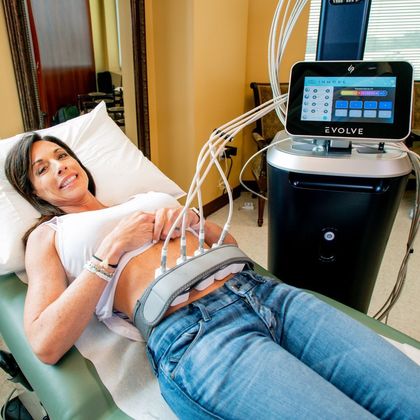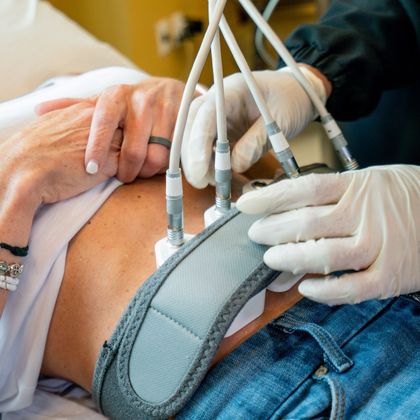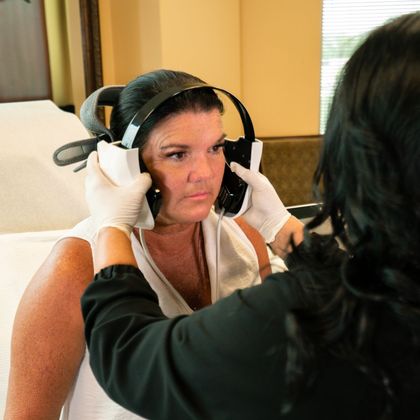 What is radiofrequency (RF) energy and how does it work?
Radiofrequency (RF) energy is the same type of energy we use to transmit messages over the radio, television, and our phones. Over the last 20 years, it has become increasingly popular to use RF energy in skin procedures.
RF works well for skin procedures because it can be used to safely apply heat to deep levels of the skin. This heat initiates collagen production below the skin's surface, which in turn leads to a natural healing response and tightening of the skin.
How many sessions are required?
For the best results, somewhere between four and eight sessions with InMode Evolve or InMode Evoke are often required. When you meet with our doctor for a consultation, he will probably recommend scheduling weekly visits to our Houston-area practice.
How much does non-invasive body contouring cost?
The cost can vary greatly from case to case based on how many areas you want to contour and how many sessions you require. If cost is a concern for you, we can help you secure financing through CareCredit®, American Healthcare Lending, or United Medical Credit.
Is this option better than liposuction or a tummy tuck?
It depends on your body. If you have only a small amount of excess fat or skin, then the nonsurgical procedure is probably preferable because you can avoid the risks and downtime associated with surgery.
However, if you have a thicker layer of fat or a large amount of excess skin, then we may recommend visiting a plastic surgeon for a tummy tuck or liposuction procedure. When you meet with our team for a consultation, we will honestly recommend which option is better for you.